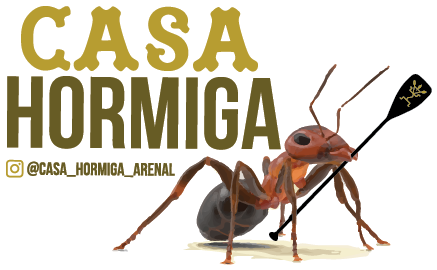 Stay&Rest
in Lake Arenal
BOOK +506 87201984
From $40
per night
Casa Hormiga
$40 The Cottage 1 or 2 persons • $10 per each extra person
¢25.000 LA CABAÑA 1 O 2 PERSONAS • ¢5.000 POR CADA PERSONA ADICIONAL
Basically

equipped with high quality double

and single bed plus a "nest" bed spot for kids or one extra person, it can comfortably hold 4 persons in. One bathroom with hot shower. To cook it counts with a small camping kitchen, basic cooking tools, small fridge, electric pan and

coffee maker. Surrounded by nature, lots of birds and plants.

Básicamente equipado con cama doble e individual de alta calidad más una cama "nido" para niños o una persona adicional, puede alojar cómodamente a 4 personas. Un baño con ducha de agua caliente. Para cocinar se cuenta con una pequeña cocina de camping, utensilios básicos de cocina, nevera pequeña, sartén eléctrica y cafetera. Rodeado de naturaleza, muchas aves y plantas.
A comfy Wood Cottage
La Casa Hormiga is a perfect place to connect wit yourself, rest, read books or write them, bring your family, friends or loved ones, its pet friendly with a private closed garden, hammock terrace, flowers and plants, a good space for rest and close distance from the small town of la union where you can find high quality restaurants, a small store and some of the most beautiful lake access.
Comoda Cabaña de Madera
La Casa Hormiga es un lugar perfecto para conectarse con uno mismo, descansar, leer libros o escribirlos, traer a su familia, amigos o seres queridos, es pet friendly con jardín privado cerrado, terraza con hamacas, flores y plantas, un buen espacio para el descanso. y muy cerca del pequeño pueblo de la unión, donde puede encontrar restaurantes de alta calidad, una pequeña tienda y algunos de los más hermosos accesos al lago.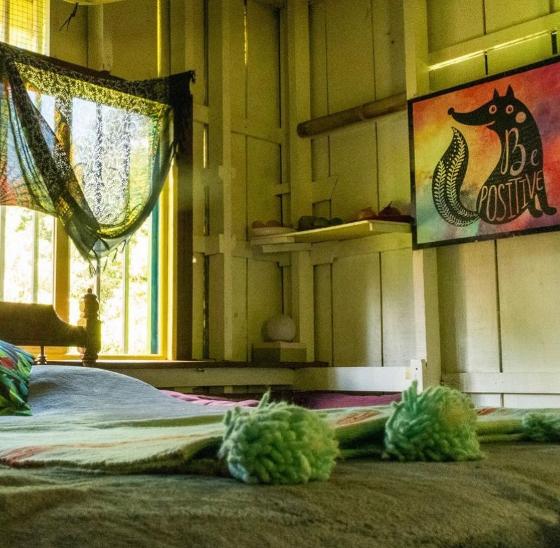 Colorful and fun! to invite you come to a space out of the routine and refresh your perceptions, bring friends or family in our two extra resting spots, the main single high quality bed and the upper fun nest bed! also complemented with clean shits, comfortable pillows, warm blankets for colder days and towels. Feel free to bring your own extra things to feel more comfortable like hair drier or foos tools like blenders.
¡Colorido y divertido! para invitarte a venir a un espacio fuera de la rutina y refrescar tus percepciones, dar la bienvenida a amigos o familiares en nuestros dos lugares de descanso extra, la cama individual principal de alta calidad y la cama superior ¡fun nest! complementado también con caca limpia, cómodas almohadas, mantas calentitas para los días más fríos y toallas.
Puedes traer tus propias cosas adicionales para sentirte más cómodo, secador de pelo o utensilios para comer, como licuadoras.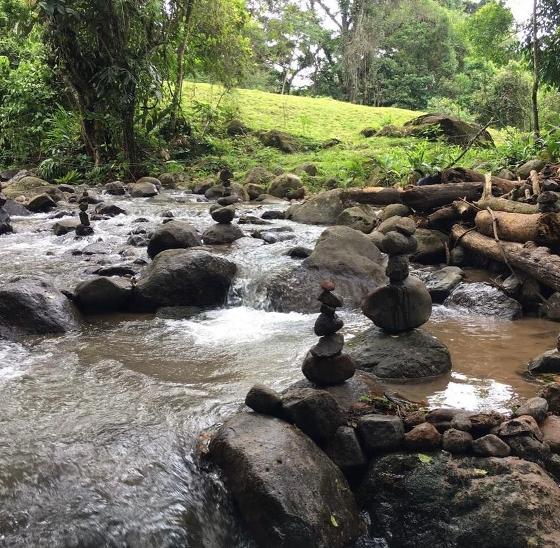 If at walking out from casa hormiga little gate you choose to go up you will be amazed by the beautiful lake views! the highest you go the more you will see, its ideal for morning running al walking trainings, to Bring your dogs or even for meditative walks and spots around the hike, there are some specific places were you can gaze the two volcanos Arenal and Tenorio. If you are willing to have a permaculture experience then you will find la Muricata food forest that way.
Si al salir del portón de casa hormiga eliges subir te sorprenderás con las hermosas vistas del lago! cuanto más alto vayas, más verás, es ideal para entrenamientos de caminatas y carreras matutinas, para traer a tus perros o incluso para caminatas meditativas y lugares alrededor de la caminata, hay algunos lugares específicos donde puedes contemplar los dos volcanes Arenal y Tenorio. Si está dispuesto a tener una experiencia de permacultura, entonces encontrará el bosque de alimentos de la Muricata de esa manera.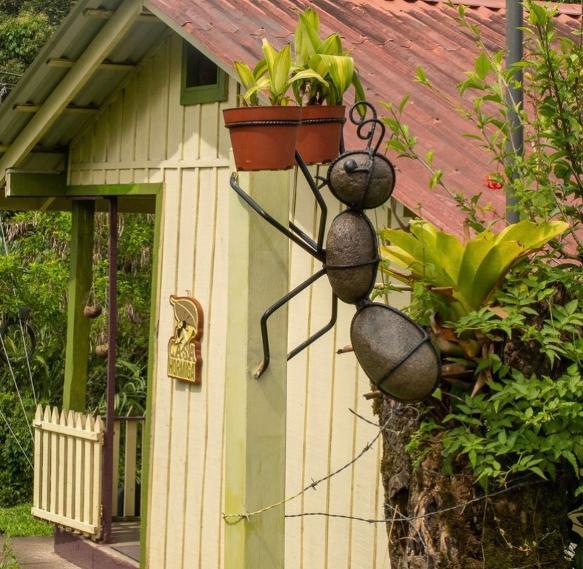 Being a small place it keep the comfort you need to rest, a high quality mattress with comfortable bed clothes and pillows, warm blankets for the low temperatures and rainy days as well as clean towels, all set for you to enjoy a Clean and comfortable stay.
There is a small library inside where some guests have lived interesting books, you are welcome to read them and contribute if you have one to let go :)
Al ser un lugar pequeño mantiene el confort que necesitas para descansar, un colchón de alta calidad con ropa de cama y almohadas cómodas, frazadas calentitas para las bajas temperaturas y los días de lluvia así como toallas limpias, todo listo para que disfrutes de una estadía limpia y confortable. . Hay una pequeña biblioteca adentro donde algunos invitados han vivido libros interesantes, eres bienvenido a leerlos y contribuir si tienes uno para dejar ir :)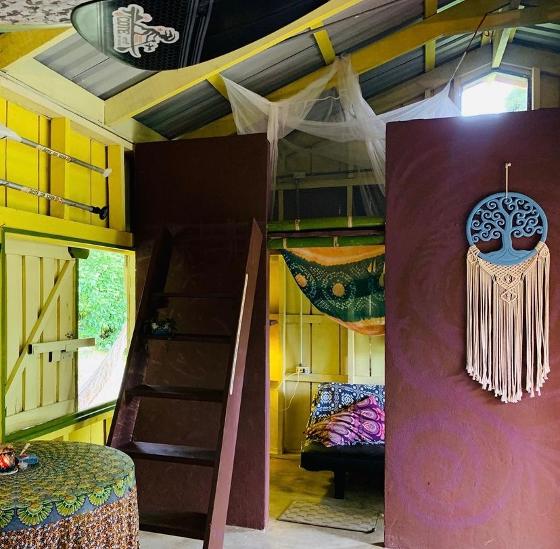 Walking out of Casa Hormiga you can reach a few steps to a magical river and build your own hanging out and meditating pools and balancing stones, alway be aware of cows and snakes around as well as many wild berries you can take and eat from the abundant nature, is recommended to bring rain coat, rubber buts and hat when you hang around casa hormiga surroundings as the rain comes by surprise all the time. Please as Chops how to reach the river and also about what to bring that day before you go.
Al salir de Casa Hormiga, puede llegar a unos pocos pasos a un río mágico y construir sus propias piscinas para pasar el rato y meditar y equilibrar piedras, siempre esté atento a las vacas y serpientes alrededor, así como a muchas bayas silvestres que puede tomar y comer. naturaleza, se recomienda llevar chubasquero, cubrebotas de goma y gorro cuando andes por los alrededores de casa hormiga ya que la lluvia viene por sorpresa todo el tiempo. Por favor, como Chops cómo llegar al río y también sobre qué llevar ese día antes de ir.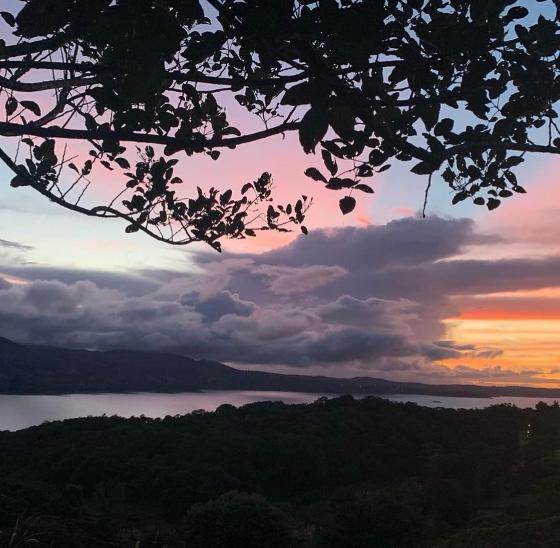 The Ant People
Anu Sinom HOPI Believes
One of the most intriguing Hopi legends involves the Ant People, who were crucial to the survival of the Hopi—not just once but twice. The so-called "First World" (or world-age) was apparently destroyed by fire—possibly some sort of volcanism, asteroid strike, or coronal mass ejection from the sun. The Second World was destroyed by ice—Ice Age glaciers or a pole shift. During these two global cataclysms, the virtuous members of the Hopi tribe were guided by an odd-shaped cloud during the day and a moving star at night that led them to the sky god named Sotuknang, who finally took them to the Ant People—in Hopi, Anu Sinom . The Ant People then escorted the Hopi into subterranean caves where they found refuge and sustenance.
In this legend the Ant People are portrayed as generous and industrious, giving the Hopi food when supplies ran short and teaching them the merits of food storage. In fact, another legend says that the reason why the ants have such thin waists today is because they once deprived themselves of provisions in order to feed the Hopi.
The constellation Orion also has a thin waist. When Orion dominates the winter skies, the ants are deep in their small underground hills. These structures are similar in form to the Hopi kivas, which are subterranean communal prayer chambers. Coincidentally the Sanskrit word ki means "ant hill" and va means "dwelling." Each February inside their kivas the Hopi perform the Bean Sprouting Ceremony, or Bean Dance, called Powamu. During this time the fires are continuously kept ablaze, turning these structures into superb hot houses. The ritual commemorates a time when the Anu Sinom taught the Hopi how to sprout beans inside caverns in order to survive.
It is interesting to note that the Babylonian sky god was named Anu. The Hopi word for "ant" is also anu, and the Hopi root word naki means "friends." Thus, the Hopi Anu-naki, or "ant friends," may have been the same as the Sumerian Annunaki—the beings who once came to Earth from the heavens.
The Ant People may have also lived in ancient Egypt. Akhenaten, the 18th Dynasty pharaoh who ruled from 1351–1334 BC, is shown in some depictions with an elongated skull like the shape of an ant's head. His almond-shaped eyes and neck are like the ant's, and either the serpent or the vulture on his uraeus resembles the ant's mandibles. He also has spindly arms and legs like those of the ant, and his upper body resembles the ant's thorax while his lower body mirrors the ant's abdomen. Akhenaten's body type can be specifically compared to the Pharaoh Ant ( Momomorium pharaonis ), which originated in West Africa. It also has an elongated head, a yellow to reddish brown body, and a darker abdomen with a stinger.
Perhaps it is more than a coincidence that the Egyptian word sahu means "stars of Orion," whereas the Hopi word sohu means "star," the most important of which are those in the constellation Orion. To read more on the Ant People and the Hopi connection to ancient Egypt, see my most recent book Star Shrines and Earthworks of the Desert Southwest .